September 10, 2020
My one-year visit at the Columbia China Center for Social Policy is most memorable and fruitful. Professor Qin Gao's enthusiasm for research and pursuit of scientific rigor have had a profound impact on me. I am grateful to Columbia for instilling in me an international perspective and inspiring me to advance my academic journey.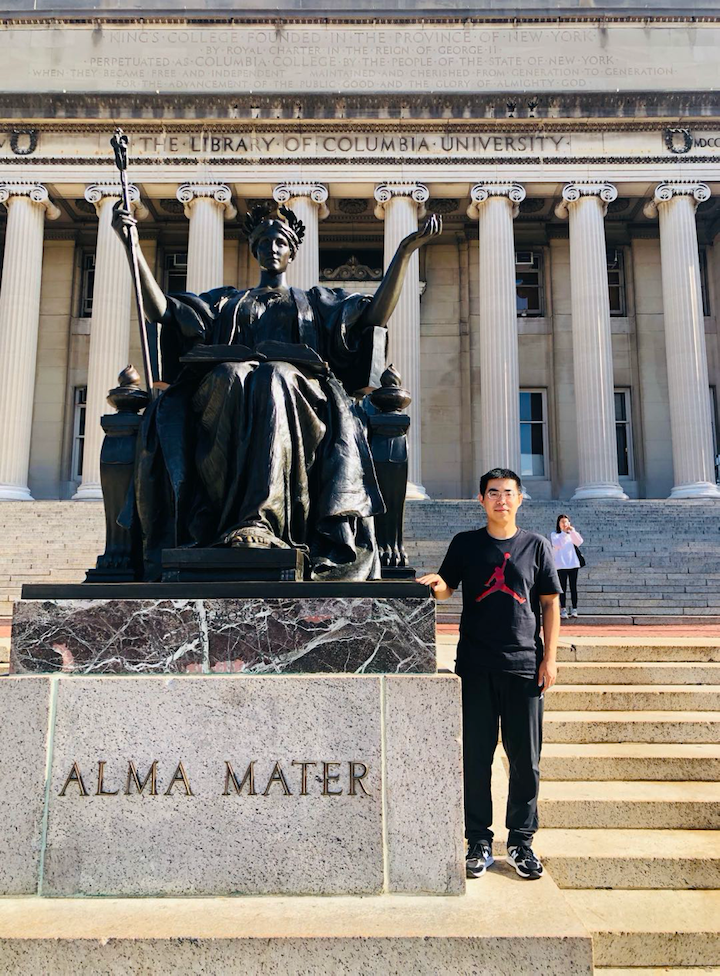 The first time I got to know Professor Qin Gao was at the International Forum on Income Distribution joint with the China Household Income Project (CHIP) 30th Anniversary Celebration held on October 27-28, 2018. My research interests in income distribution, social policies, and rural old-age insurance are well-aligned with Professor Gao's research fields. I was deeply impressed and inspired by Professor Gao's book, Welfare, Work, and Poverty: Social Assistance in China, in which she conducted a thorough evaluation of the effectiveness of China's Dibao program.
From Beijing to New York City
As a team member of the China Institute for Income Distribution (CIID) at Beijing Normal University, I participated in the cleaning of the CHIP 2018 data in summer 2019. Knowing the body of work by Professor Gao and her research team using the multiple waves of CHIP data, I reached out to her and applied to be a visiting scholar at the Columbia China Center for Social Policy directed by her. I was thrilled when Professor Gao agreed to host me during the 2019-2020 academic year. My visit is generously supported by a grant from the Chinese Scholarship Council.
New York City is a cultural wonderland, a source of inspiration, and a testing ground for many from around the world. Imagine my excitement to call Columbia University in the City of New York my home for one year!
My Research and Studies at Columbia
My main research project during the visiting period has focused on the effects of public transfers on income distribution and poverty in China. I was honored to coauthor a paper with Professor Gao on urban poverty in China, which we presented at the October 2019 forum on "Urbanization and China: Understanding Impacts, Projecting Future" cohosted by the China Center for Social Policy and Graduate School of Architecture, Planning and Preservation.
Columbia offered me the opportunity to take two highly educational and rewarding courses. In fall 2019, I took Professor Gao's course Global Social Policy and completed a final paper titled "Housing Crisis in Urban China: A Proposal for the Shared Home Ownership Program" with my teammates. In spring 2020, I participated in the Economic Perspectives course taught by the Nobel Laureate Joseph E. Stiglitz. This course enhanced my understanding of the nature, extent, and consequences of global inequality to a new level.
Another highlight is my participation in a training workshop on Conducting Qualitative Research hosted by the China Center in February 2020. In the workshop, Drs. Shu jung Li and Jun Lu drew from their research experiences to illustrate how to conduct field work, in-depth interviews, and textual analysis. This workshop gave me a new perspective about investigating social issues using qualitative methods.
During the last few months of my stay, Professor Gao invited me to participate in a UNICEF-sponsored research project on child multidimensional poverty in China. My tasks included data preparation and statistical analysis of the effects of Dibao's on child multidimensional poverty in China. I gained invaluable skills and experiences carrying out these tasks and collaborating with the other team members.
Coping with COVID-19 in New York City
In March 2020, COVID-19 broke out in the US and New York became its epicenter. Like everyone else at Columbia, I switched to working from home and taking my spring course remotely. Coping with COVID-19 in NYC has been the most memorable part of my one-year visit.
In the beginning, I was very scared, washing hands carefully every day, buying food online, and daring to go out very rarely. It seemed anxiety and tension circulated everywhere in the city. Our daily lives were severely affected. However, by June, the situation in NYC improved substantially and the city began to reopen.
During this pandemic, I learned to cope with loneliness and other aspects of the crisis. I was extremely anxious during the first month of social distancing, but gradually I overcame the challenges and learned to cook and regulate my emotions. This unique experience equipped me with patience, willpower, and courage to address future difficulties in my life.
A New Beginning
Reflecting upon my one-year visit, I deeply appreciate the help and guidance from Professor Gao and other mentors and colleagues during this challenging year. I hope to continue collaborating with Professor Gao and the Columbia network after my return to Beijing. Departing New York City feels like a new beginning to me. I am determined to apply what I learned at Columbia to my future academic work and conduct more high-quality research on poverty and income distribution from an international perspective.
Pengzhan Yang is a doctoral student at the School of Finance in Renmin University of China and a visiting scholar at CSSW from September 2019 to August 2020. His major is public finance. His current research focuses on income distribution, social policies, and rural old-age insurance in China. He is also a member of the China Institute for Income Distribution (CIID) at Beijing Normal University.