Dr. Jinyu Liu, associate professor in the Columbia School of Social Work and faculty of the China Center for Social Policy, received a $627,210 National Institute of Health (NIH) Mentored Research Scientist Development Award (often referred to as K01 award) for her research titled "Developing a culturally-sensitive volunteering program to reduce stress of dementia caregivers in Chinese American Communities." The research project aims to reduce Chinese Americans' burden and improve their physical and mental health in caring for their loved ones with Alzheimer's disease and related dementias.
Given the increasing prevalence of Alzheimer's disease and related dementia (ADRD) in the United States and the quickly growing population of older Chinese Americans, many older Chinese Americans are expected to need intensive care because of cognitive impairment. However, few interventions have been designed to address caregiver needs among Chinese Americans, despite previous studies showing critical issues of poverty, low acculturation, and poor mental health in this population, the largest group of Asian Americans. A large gap exists in development of culturally sensitive interventions to reduce stress among caregivers in Chinese American communities.
In this NIH-supported research, Dr. Liu is working with social work professionals in CaringKind-The Heart of Alzheimer's Caregiving, to develop a peer mentoring program (PMP), a 3-month intervention to provide one-on-one mentoring support to reduce the stress of Chinese American dementia caregivers. The program will recruit and train Chinese American experiential caregivers in New York City to be volunteer mentors for dementia caregivers in the same ethnic community, who experience stress due to their involvement in family dementia care. This research project is likely to be the first study to examine an intervention for Chinese American caregivers in New York City, the metropolitan area with the largest Chinese American population in the United States.
Instead of training culturally competent health professionals to deliver direct support, the PMP focuses on building and utilizing the human capital of experiential caregivers, which could be effective, economical, and sustainable in providing one-on-one companionship, mentoring, and support for dementia caregivers in the same ethnic community. Based on a strength-based perspective, the PMP is likely to empower an ethnic minority community and stimulate community solidarity by developing a volunteer health promotion intervention. If proven effective in Chinese Americans, the PMP, a culturally relevant and empirically based intervention, could be applicable to supporting dementia caregivers in other racial and ethnic minority populations. Developing a culturally sensitive health promotion program by building human resources among senior volunteers could be helpful in empowering other minority communities.
This NIH grant will also enable Dr. Liu to extend her research from secondary data analysis to intervention development and testing of effectiveness. Congratulations to Dr. Liu!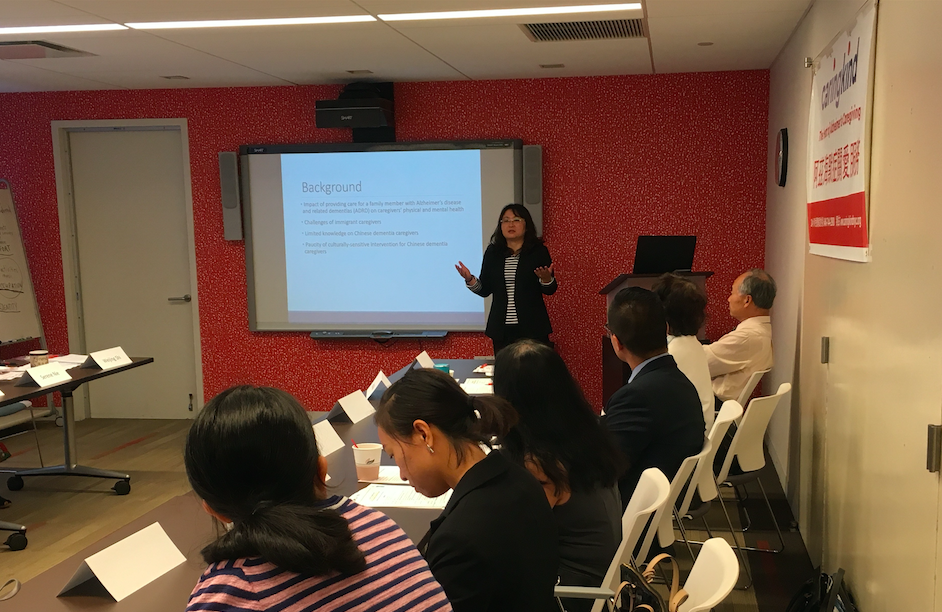 Prof. Liu presenting her study at the meeting of CaringKind Chinese Advisory Board on September 26, 2019.