May 21, 2020
The Columbia China Center for Social Policy is proud to celebrate the graduation of three Center fellows this May.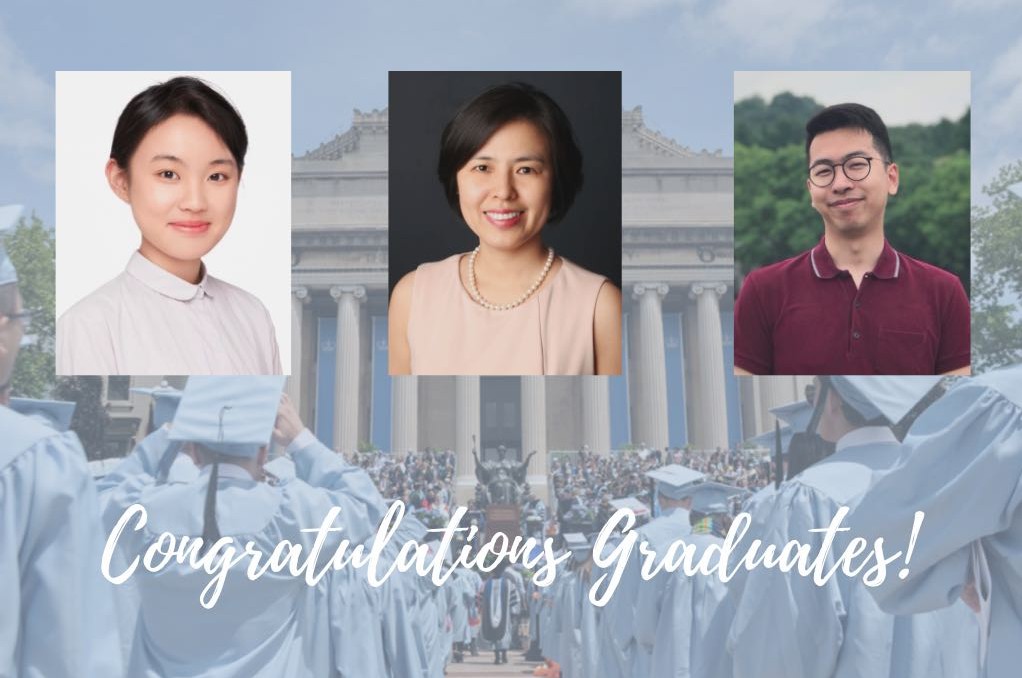 We applaud the graduates' accomplishments and appreciate their contributions to the Center. We are deeply impressed by their perseverance and resilience coping with the COVID-19 pandemic while pursuing their studies and field work during this past semester. We send them—and the entire Class of 2020—our warmest congratulations and best wishes.
Rong Yu received her MSW degree from Columbia School of Social Work, with a concentration in Policy Practice and field of practice in children, youth, and families. In her first-year internship, Rong worked in an elementary school at Chinatown of Manhattan, where she gained direct practice experience with children who had academic and social behavioral challenges. Her second-year internship was with the Columbia Population Research Center and the China Center for Social Policy, where she served as a research and administrative assistant. Rong joined the China Center's team conducting UNICEF-funded research on child multidimensional poverty in China. She also partially assumed the role of event planning, coordination, and management for the Center. Before coming to the US, Rong earned her MA in Economics from Beijing Normal University and worked in a policy think tank affiliated with a ministry in China. Rong plans to devote her career to promoting the well-being of children and youth in the future.
Yuti Lan received her MSW degree from Columbia School of Social Work, with a concentration in Advanced Generalist Practice and Programming. During the past two years, Yuti interned at the Hamilton-Madison House, Office of New York City Council Member Margaret Chin, and Columbia Population Research Center and China Center for Social Policy. At the China Center, Yuti gained valuable research experience through working on data collection, entry, and analysis under the supervision of Prof. Qin Gao on China's poverty eradication project. Inspired by this experience, Yuti has set her career goal to be a researcher whose scientific work can have real-world impacts and implications.
Zijia He earned his MA degree in Quantitative Methods in the Social Sciences from Columbia Graduate School of Arts and Sciences, with a data science focus. During his affiliation with the China Center, Zijia has been working closely with Dr. Qin Gao to investigate Chinese poverty eradication efforts through big data text analysis. Using data-empowered methodology, the research sheds light on the past and future of China's poverty alleviation efforts by closely examining government documents as well as media outlets. After graduation, Zijia will join a Beijing-based EdTech startup, Onion Academy, whose chief mission is to improve general education in China, especially in rural areas, via cutting-edge human-computer interactions.
Congratulations, graduates! We wish you the best of luck and many more successes in the future!