By
Yalu Zhang
Candice Yandam
Yahan Yang
April 17, 2019
To respond to the increasing demand of care due to modernization and demographic shifts in China, the Columbia China Center for Social Policy hosted an all-day conference "Caring for All: Challenges and Opportunities in China and Beyond" on March 30, 2019 to share new research on family care and social services and debate policy and practice solutions.
At the conference opening, Qin Gao, Director of the Columbia China Center for Social Policy, and Irv Garfinkel, Interim Dean of Columbia School of Social Work, warmly welcomed scholars, practitioners, and students and emphasized the China Center's mission of international collaboration in research, education, and career development.
The first panel of the conference focused on responsibilities, resources, and coping strategies of family care and was moderated by Jane Duckett (University of Glasgow). Qiaobing Wu (Hong Kong Polytechnic University) analyzed the role of social capital in affecting mental health of migrant children. Wenxiao Ji (Henan Normal University) discussed possible coping strategies to reduce the psychological pressure of family caregivers of children with rare diseases. Sophie Mitra (Fordham University) examined the relationship between health and employment among Chinese adults and highlighted the differences in challenges between rural and urban areas. Juan Chen (Hong Kong Polytechnic University, China) demonstrated that most families in Beijing and Hong Kong, when experiencing emotional and mental health issues, prefer turning to family members rather than health professionals, organizations, or online platforms.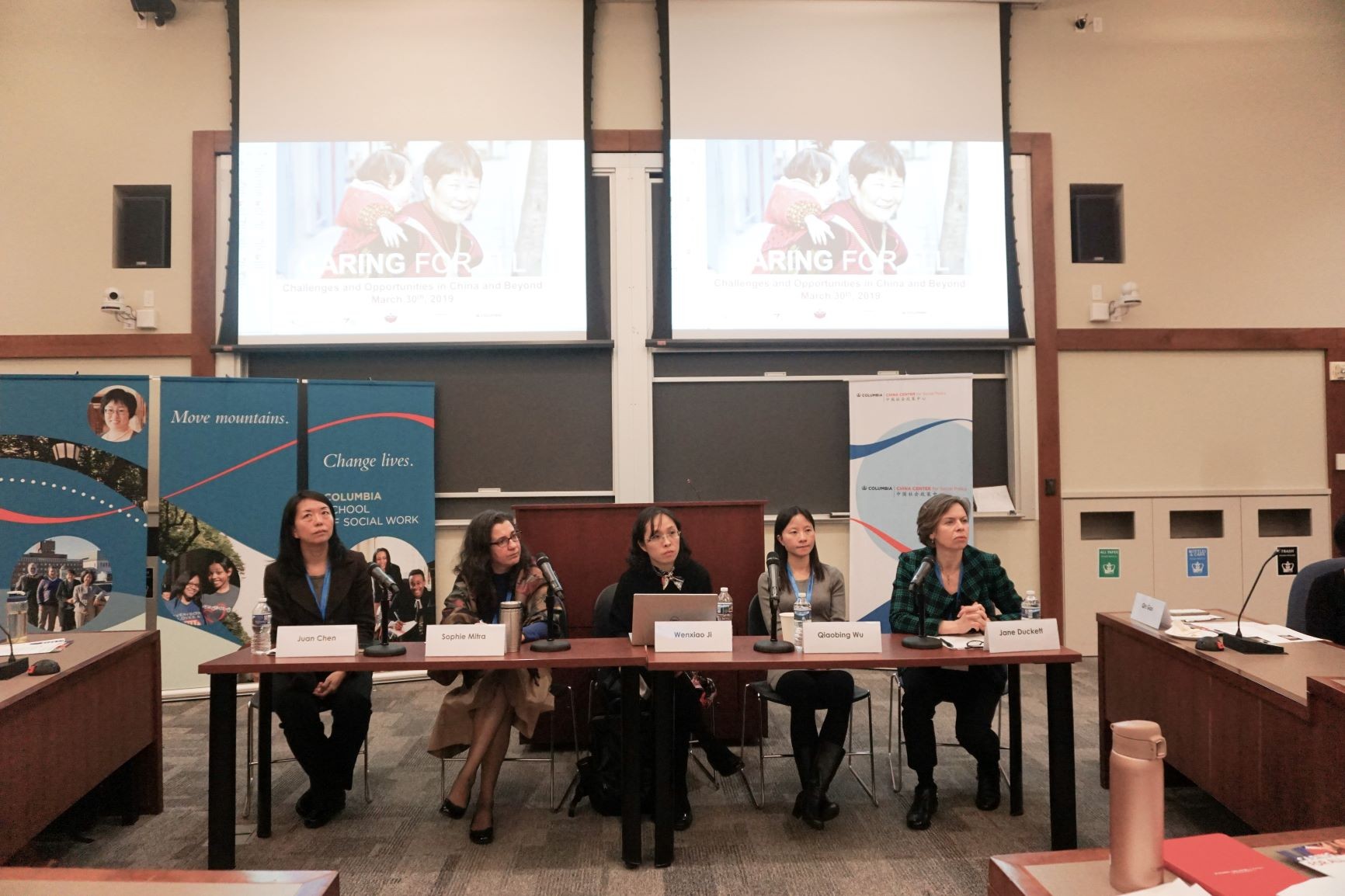 The second panel focused on the needs, effectiveness, and challenges of social service provision and was moderated by Ada Mui (Columbia University). Chun Zhang (Fordham University) emphasized the importance of early interventions in empowering and supporting child development. Jinyu Liu (Columbia University) introduced her team's ongoing project to study the needs of Chinese dementia caregivers in New York City. Lydia Li (University of Michigan) presented her powerful findings that the Coordinated Care Model significantly reduced depression and hypertension rates among rural older adults in China. Yue Qiu (China Development Research Foundation and China Center for the Economics of Human Development) reviewed recent social policies that support elder care in China and highlighted the unmet demand for sustainable service and payment mechanisms.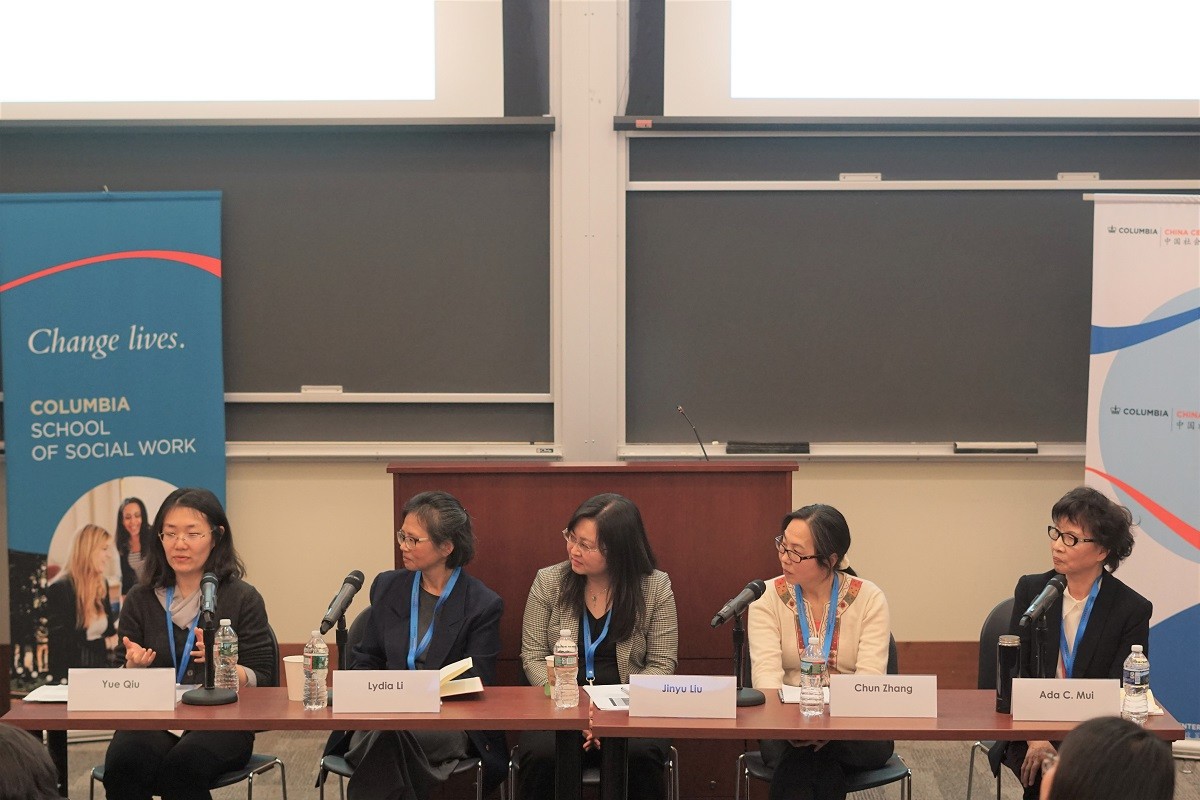 The concluding panel focused on social policy responses to caring for all, moderated by Jeanette Takamura, Columbia School of Social Work's Dean Emerita. Hui Xu (China Center for the Economics of Human Development and Beijing Normal University) discussed how a parent's experience of being an only-child affects her/his own children's language cognitive development. Merril Silverstein (Syracuse University) presented the differences in preferences for long-term care among rural and urban older adults in China. Xiaofang Liu (Fordham University) called for legal and institutional support in developing a National Palliative and End-of-Life Care System in China. Heidi Allen (Columbia University) took the example of the complicated healthcare system in the US to shed light on creating a comprehensive and efficient health insurance system in China.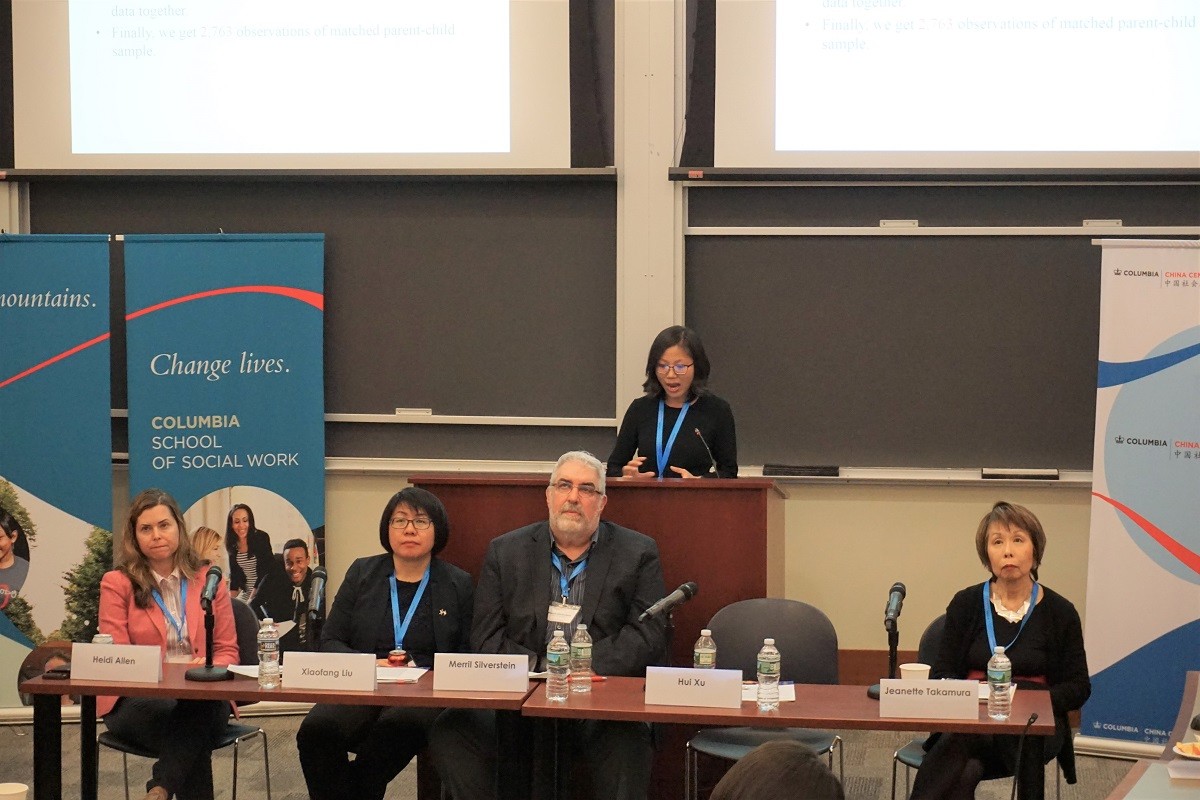 In closing remarks, Qin Gao reflected on the importance of bringing together multidisciplinary scholars to share knowledge and discuss policy and practice solutions in care giving and receiving across the lifespan. The all-day conference stimulated lively conversations among scholars and practitioners and led to new collaboration and exchange opportunities. Feedback from the audience highlighted some of the most successful aspects of the conference, including the richness of the information presented, the breadth of the topics covered, the professionalism of panelists, and the diversity of perspectives.